Bart has loved the idea of doing Christmas cards since we got married.
Of course, he didn't love the idea enough to do them himself, so we didn't start doing them until about five years ago when I finally decided I was willing to take on the project.
Since then, we've done them every year (2011 and 2013 here – apparently I never shared the other years). I know some people feel like it's this huge huge undertaking, but over the last five years, we've streamlined our processes enough that it's pretty painless and I always feel awesome for getting them sent.
Here are four ways we keep it simple: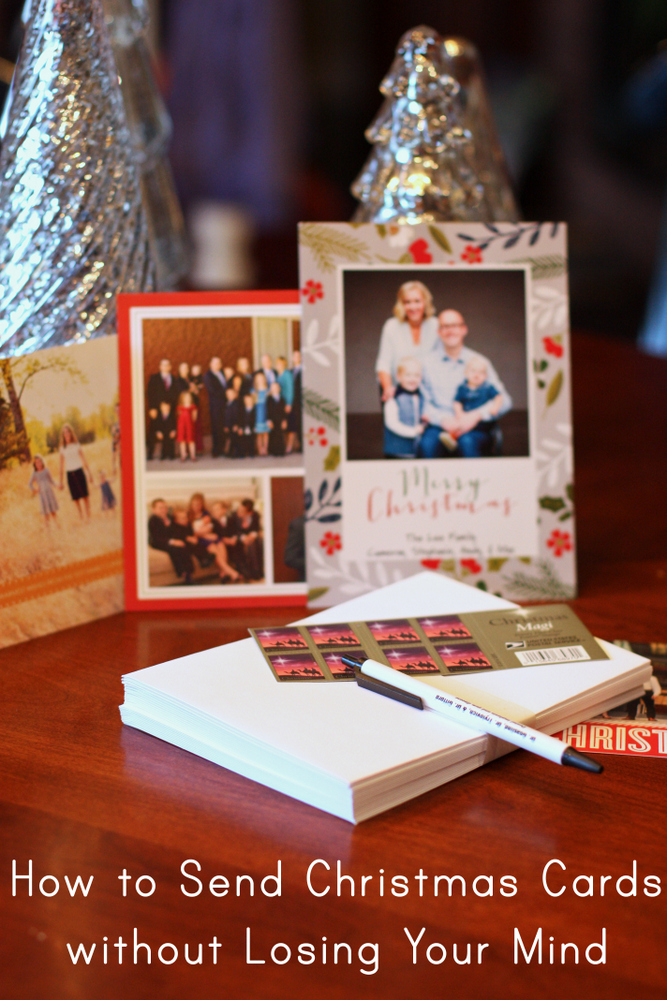 Don't feel like you have to have them done by the first of the month. There aren't any prizes for the first Christmas card delivered, so I don't kill myself trying to get them. Plus, the prices tend to go down the further into the month you get. One year, when we sent them out fairly late, thanks to waiting for Ani to be born so we could get a family photo, they were 70% off and we spent less than $50 total on them, including postage. Score. And they still arrived before Christmas. You're not a procrastinator, you're frugal.
Keep a digital spreadsheet of addresses. The gathering of addresses is for sure the worst part. The first year, we put together a spreadsheet on Google Drive with the addresses of everyone we wanted to send one too. That first year took a while to set up, but now it's always accessible and as people move over the course of the year, we have one central place to update their info. When we're ready to do Christmas cards, we just scan the list to see if we know of any updates we need to make, add anyone new to the list, and it's ready to go. Plus, it's super handy to have all our addresses available anytime we need them throughout the year.
Have the addresses printed right on the cards. This is the best thing ever. I don't particularly love my handwriting and I REALLY don't like my handwriting by the time I've written 100 addresses, so I love having the envelopes come with the addresses for the recipients already printed on them. Saves me a ton of time and they don't embarrass me when they go out. You just upload your spreadsheet (another reason to keep them in that format) and you're ready to go.
Consider having them sent directly to the recipients. We don't do this every year, but it's seriously a huge timesaver. Most companies just charge you for the price of postage (no markup) and then instead of sending them to you and you having to assemble them and stick them in the mail, they just send them directly to the recipients. Oh man, this is the best.
We had family photos from the summer that we could have used (I'll share those later because they are ridiculously cute), but we opted to do
a card with multiple photos
so we could use some of our various photos from our excessive traveling this year.
I am pretty excited to see them, and I'm ALSO really happy to see that the post office is forwarding all the Christmas cards that got sent to Durham this year. My lucky parents get to have a big display of cards from people they've never met on their wall this year.
This is not a sponsored post, but Tiny Prints did print my cards free of charge.