I'm geeking out a little because the book deals this week are SO DANG GOOD.
Seriously – it's just one good book after another.
I can't imagine a better way to finish out February!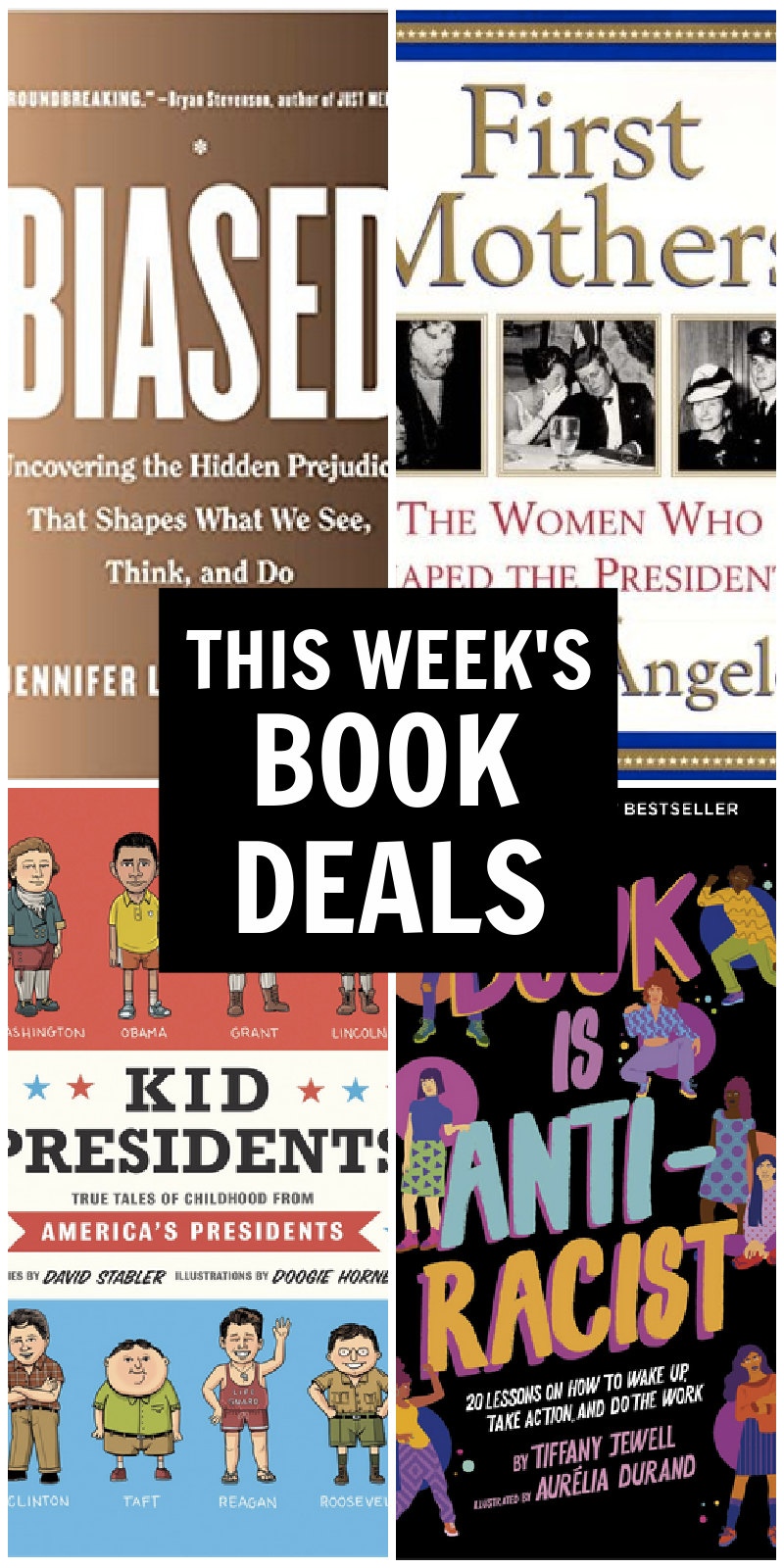 End of the Month Book Deals
Unbiased: Uncovering the Hidden Prejudice That Shapes What We See, Think and Do by Jennifer L. Eberhardt
I started listening to this one recently and I'm so glad to see the ebook version on super sale! I've heard all sorts of good things about this book – so far, it reminds me a little of Quiet with a great mix of storytelling and research.
First Mothers: The Women Who Shape the Presidents by Bonnie Angelo
I read one entire book for fun during my freshman year in college (aside from winter break) and it was this one. If you loved the behind-the-scenes look in Upstairs at the White House, this one is a similar concept and runs from Sara Delano Roosevelt to Virginia Clinton Kelley and every chapter was just so fascinating about the relationships between these boys who grew up to be presidents and their mothers.
This Book Is Anti-Racist by Tiffany Jewell
If you want to raise anti-racist kids, consider this your handbook. It has 20 lessons to work through and it's on an amazing sale right now.
Kid Presidents by David Stabler

We've got kind of a presidential theme going on this week! Ella picked this up from the library a few weeks ago and I was delighted to see the audio version for under $5! This is on sale through LibroFM – if you're not familiar with LibroFM, I have a whole post here about how it works.
Evicted by Matthew Desmond
This is about poverty and housing, rather than poverty and prison, and I've been meaning to read it since it came out a few years ago (it won the Pulitzer!)

All Creatures Great and Small by James Herriot
I absolutely love love love James Herriot's books. My mom read one of them aloud to us when we were young and I remember one chapter specifically where she was laughing so hard, she literally couldn't speak for a solid minute or two. I went on to read many of his others myself, and now my girls love listening to his children's versions of some of the stories. If you have Kindle Unlimited, go read these all immediately (but pretend I said that in a less bossy voice).