Often, when I come out of my bathroom in the morning after getting ready for the day, I find all three big girls dressed and ready for school, stretched out across the couch and chairs in the living room, each reading their own books.
I love seeing Star join the ranks of fully independent readers and I cannot believe how many books she plows through these days – it's been a banner year for her as a reader (thanks, Savvy Reading).
Here are five chapter books for 1st graders she's really enjoyed recently.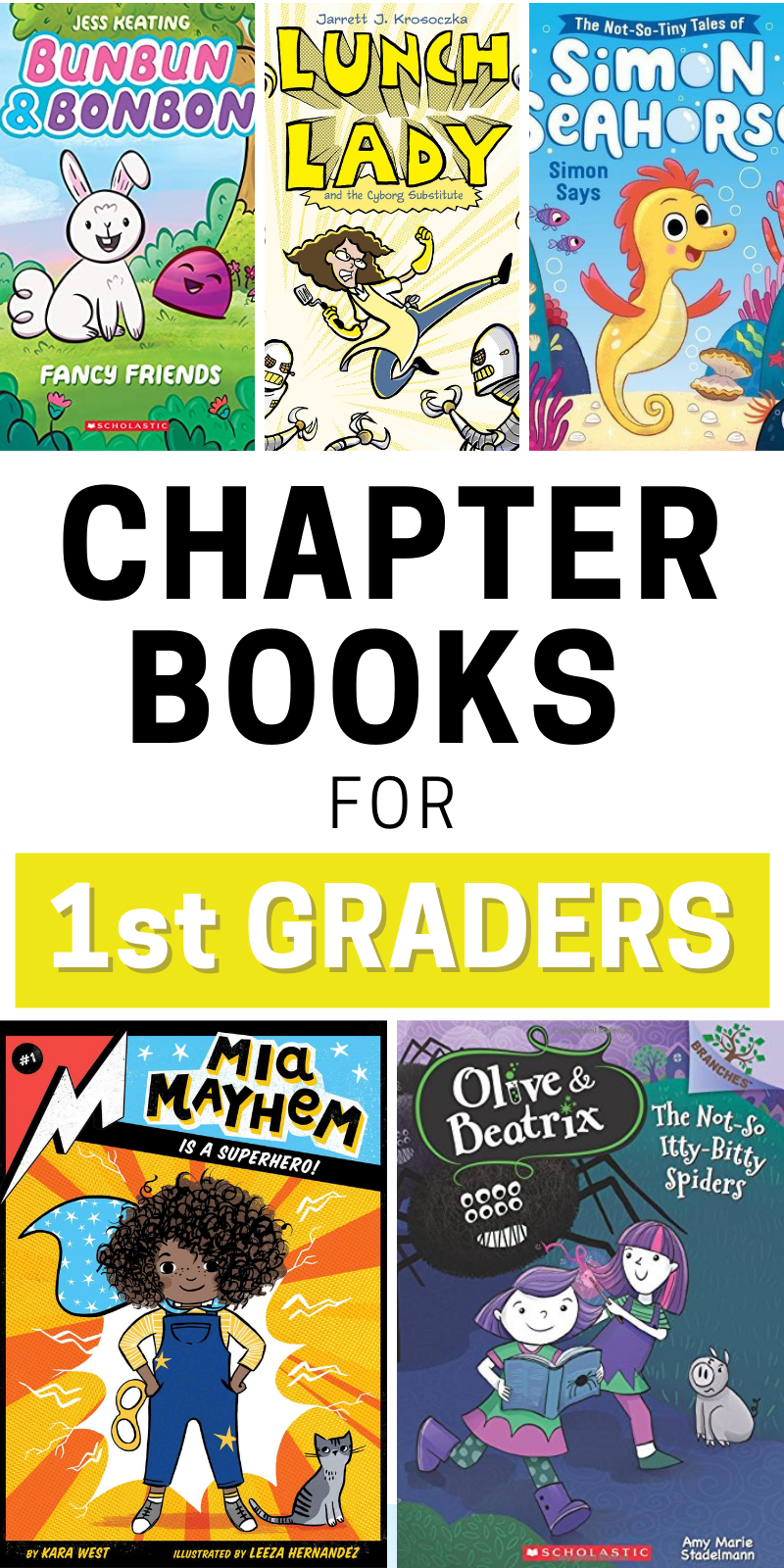 5 Chapter Books for 1st Graders
Simon Seahorse by Cora Reef, illustrated by Liam Darcy  
128 pages
This new series has three books in it so far and just came out in December. Simon is a teeny seahorse with a BIG personality and loves to tell elaborate stories. They're meant for beginning chapter book readers with good size text and illustrations on nearly every page.
What Star has to say: It has big print so it's a little bit easier for kids to read and it has some pictures that are fun. The stories are fun and pretty interesting. I've the read the first one but not the second and third yet.
Lunch Lady by Jarrett J. Krosoczk
96 pages
I read my first Lunch Lady book when I was a school librarian and it's been fun to see each of my girls in turn love this funny and clever series about a crime fighting school lunch lady who has all sorts of cool tools made from cafeteria supplies.
What Star has to say: This is a graphic novel and I like graphic novels. It has some pretty funny and cool scenes too. It's not just about Lunch Lady – it's sometimes about these other three kids that I like. I've read two of them but there are a lot. I haven't read them all because I haven't quite had time.
.
Bunbun & Bonbon by Jess Keating
64 pages
This beginning graphic novel is SO fun and perfect for emerging readers with simple text and full color illustrations. Bunbun is the cutest little rabbit but has no friends until Bonbon comes along! This book would be a perfect addition to this list of beginning graphic novels.
What Star has to say: This is a bigger, easier book for kids to read, so if you're more of a beginning reader, this is a fun book to help you get better at reading. It's also a cute book and I think that most people would like it.
Mia Mayhem by Kara West, illustrated by Leeza Hernandez  
128 pages
I read one of the books in this series aloud to my girls in an afternoon and we all loved this fun story of an undercover superhero. Like many series at this level, you don't need to read them in order – each one will catch you up quickly.
What Star has to say: It has bigger print like Simon Seahorse and it has some fun parts and it also has pictures. I don't usually like superhero stories but this is actually a really fun one.
Olive & Beatrix by Amy Marie Stadelmann  
80 pages
This is a cross between a graphic novel and a beginning chapter book and the fun story line, magic, and full color illustrations made this story of twin sisters, one who is magic, has been a huge hit with Star.
What Star has to say: It's a graphic novel except it doesn't have those little squares and it is all in color and fun. It's about a couple pranks and other silliness. It's also about science and magic. I loved it.
And if you'd like a printable copy of this list that you can take to your library or screenshot on your phone for easy access, just pop in your email address below and it'll come right to your inbox!
IF YOU LIKED THIS LIST OF
chapter books for 1st graders

, YOU MIGHT LIKE THESE POSTS TOO: